I don't like to spend a lot of time on my hair.  Matter of fact, I don't like to spend a lot of money on it either.  I am typically a $3 grocery store shampoo kind of girl, I dye it at home, I don't buy a lot of hair products, and if I have to spend more than about 15 minutes start to finish, drying it and styling it, I just won't.  But with all that being said, I like my hair!  I'm proud of my hair!  I love being a brunette, I like a good haircut and changing up the length every now and then, I like it to be styled, I like it to look shiny and healthy, and I think my hair is as much of a part of my overall look and style as makeup, jewelry, or the right dress is.
So when my sweet friend Lindsey reached out to me about trying Monat hair care, I have to be honest, I was 100% skeptical.  I liked the fact that it's botanically based, vegan, non-GMO hair care company, but my first thought was- how much better can it really be??
Well, my friends, it turns out it can be considerably better.
So after I said I'd be happy to try it out, she asked me a few questions about my hair, the way I style it, and what products I use, and then gave me her recommendations based on my answers.  I told her that I have pretty normal hair, grease-wise, that it's fine but I have A LOT of hair, I have some color and heat damage, that I blow dry it and use a curling iron, use mousse and hairspray for styling and volume (I like big hair :)), like to keep my routine pretty low maintenance, and like to only wash it every 2-3 days and use dry shampoo in between.  She recommended that I try out the Volume System, with shampoo and conditioner that rebalances my scalp and increases hair density, a root-boost (instead of my dollar store mousse) to use on wet hair for volume, a blow out cream protects the hair from heat damage, reduces drying time AND helps maintain hold, and hairspray for hold.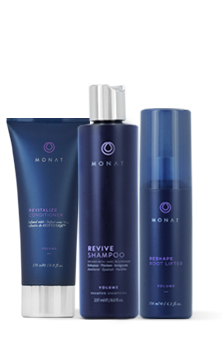 So I tried it. And fully anticipated still needing my (beloved) dry shampoo in between washes.  But day 2, day 3, EVEN DAY 4 AND 5 rolled around, and my hair was still holding curl, still maintaining volume, and looking shinier than ever.  What is this magic potion I have been blessed with??? I thought.  Turns out, it's just Monat!
Day I washed my hair- after being outside and walking around for 7+ hours
I used it all last week while we were at the beach, and even with all the sand and saltwater and sunscreen that built up, my hair was so soft and shiny after I washed it.  Then while we were in Chicago over the weekend I took it with me, and only washed my hair once because it still looked so good each morning! The curl held and I still had so much volume that there was no need in wasting a good style by washing it.  Then last week I washed it on Tuesday and didn't have to wash it again until SUNDAY.  5 solid days not washing my hair for it to look like I just washed my hair?  Um, yeah, I'll take it.
Day 3 after washing as soon as I got up (and no makeup)!
So- is Monat shampoo $3??  No.  But does it make my hair look and feel infinitely better than my old $3 shampoo?  Absolutely.  And not only that, but if I only have to wash my hair 2 times a week at the most with no dry shampoo in between, my Monat products are going to last much longer and end up costing me so much less in the long run with much better results.
Day 4 After Washing (with just a bit of curling iron touch up and hairspray)!
Like I said above, when I tried Monat, I was 100% skeptical.  But after giving it a few weeks and noticing the awesome results, I am 100% sure that I'll be ordering it from Lindsey to use from now on.
NOW, if YOU think that you might be interested in getting specialized recommendations for your hair, check out my friend Lindsey!!  You can reach her here on Facebook and send her a DM, or send her an email, and I have no doubt that she'll find the perfect solution for you.
Here's to beautiful hair, and no more dollar store shampoo!