So to be very honest, Scott and I don't make Valentine's Day a big deal.  Once upon a time, it was fun to get dressed up and go out to an overpriced and extremely crowded Valentine's Day dinner, but now we might exchange a small gift and go out to lunch, but that's about the extent of it.  I mean, every day is Valentine's Day when you're married to Scott Luton! **Insert mega eye rolls here, haha**
But what I still do like to do is dress up a bit!  The kids still like to dress festive for holidays, and I have to admit that I do too.  So I found a few cute Valentine's Day outfit ideas that I'm sharing today, whether you're going the casual route like we are, or if you're still into the pre-fixe menus and chocolate covered strawberries and are making a big date night out of it!  There are tons of stores having great Valentines Sales too right now, so take advantage and grab something cute for the LOVEliest day of the year!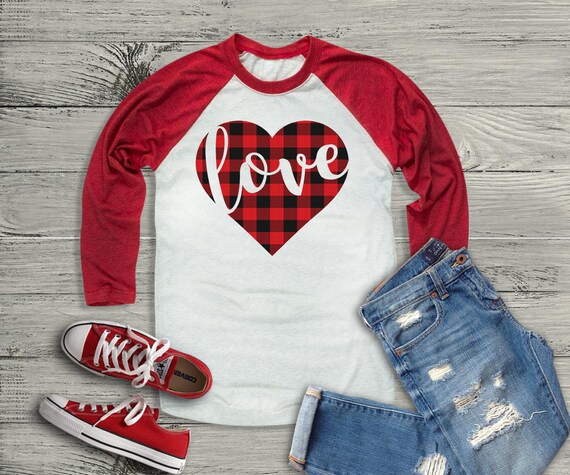 A cute t-shirt is all you need for the kids Valentine's parties at school!
Love Raglan from Etsy 
This cozy pink sweater with jeans would be comfy with jeans and fuzzy slippers for an evening watching Netflix and eating Chinese and drinking champagne with your one and only (sounds pretty awesome to me).
Pink Criss Cross Sweater- Zaful
I also love this super-casual sweatshirt with the cute ruffle detail on the sleeves!  Throw on some leggings and you're still festive but definitely putting off the laid back Valentines vibe.
Red Sweatshirt with Ruffled Sleeve- Zaful (PS- they are having a big Valentines Day Special right now!)
If you want to step it up a notch, this pretty ruffled top would be really cute with jeans, pants, or a skirt for a casual dinner or lunch date!  PLUS- it's on sale with an additional 50% off right now!
Red Ruffle Blouse- Loft
I loooove this pretty floral blouse that would be pretty with jeans or pants, and really cute with a blazer or chunky knit cardigan.
Floral Pintucked Blouse- Old Navy
So you've decided to go out.  Hubby made dinner reservations, so you need a dress!  I think this cute polka dotted tiered number is pretty cute and not so dressy that you couldn't get more wear out of it.
Red and White Polka Dot Tiered Ruffle Dress- Zaful
I also love this floral midi- very romantic but not so over the top sexy.
Floral Drawstring Midi Dress- Zaful
This tie neck dress is not too formal, but still nice for a nice dinner out.  Plus, it's roomy so you can say yes to dessert.
Satin Tie Neck Shift Dress- Old Navy
And last but not least, if you really have a special date night planned!  For a fancy dinner, or night at the theater, or something really fun, this crocheted lace dress is a stunner.
Red Crocheted Lace Midi Dress- Zaful 
Do you have plans for Valentine's Day yet?  What are you planning on wearing!